Angels Under Our Wings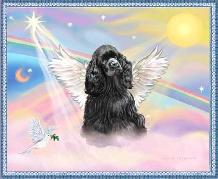 I'd like to introduce you to the Cocker Spaniel Rescue "Angels Under Our Wings". It is a small non-profit group of volunteers in Victoria, B C that rescues Cocker Spaniels from high-kill facilities in California! They are always looking for families to adopt rescued spaniels, volunteers, foster families, and of course donations. Each cocker spaniel rescue costs at least $700 so any donation will be helpful! And a donation does not necessarily need to be financial, the Rescue also has a "wish list" on their website.
There are some amazing pooches so please check out the website!
---
Dirty Paws Dog Walking
Courtnay, the best dog walker ever, offers 2 hour adventures guaranteed to tire out even the craziest of hounds! I know! Max comes home and curls up on the couch because he had a great run with his friends and his favourite Aunty Courtnay!  Adventures include pickup, dropoff, and a complete wipe down to get all that muck off your favourite pup!
---
A New Leash – Certified dog training located in Summerland, BC
Professional dog training in the Okanagan.
---
inStitchez – Embroidery and Design
For all your embroidery needs, check out institchez.com.  Need a leash? Need a tshirt? Need new decals on for car, InStitchez.com is one stop shopping with reasonable prices!
---
Petra's Pet Photography – Vancouver
To all pet owner's out there, you know how hard it is to have your pooch sit still? Why not have Petra capture the best pictures! I can speak from experience as most of my pictures of Max are all blurs, well except when he is sleeping! If you want to get that wonderful picture of your pooch, check out Petra!
---
DoubleDog Stitches & Designs
Check out Double Dog Stitches the site to order unique collars and leashes!  The collars and leashes are customized to your dog and one of a kind!!!! 
---
Alpha Dog Training
Nina Houghton is one amazing trainer.  We researched many dog trainers and liked the approach she was taking with training, by using commands and praise instead of treats. Treats work for the short term but you need something with longevity to make sure your dog listens at all times.  Nina met Max when he was so timid and scared of his own shadow and with her patience and training techniques he has evolved and graduated to a dog who does Agility! If you have any training or "issues" you'd liked to resolve contact Nina, she works wonders!
Nina and Max
---
West Coast Rottweiler Rescue
We are a small and dedicated group in the Lower Mainland area of British Columbia. In 2008, Bev and Jim Inglis gathered some friends together to help with a vision. That was to work with those dogs that no one else was helping with. We wanted to take on those who were old and or sick. Shelters will often not keep those dogs for long as a cold shelter is no place for an old dog. While we could not fix them all, we were able to start helping a few. We opened a bank account and started to fundraise.
---
Dale McCarthy
Ever wondered what your pet is thinking and why they are doing what they are doing?  Call Dale.  She has an uncanny and almost unbelievable ability to communicate with your pets!"  I asked her over to talk to Max.  He has some behaviours that I can not explain.  Dale talked to him and we now have our answers!
---
Terry Osti
Are you looking for a place to buy or sell…contact Terry for all your real estate needs!  If you have family pets, he's got that covered too with, you guessed it, SparkySnacks!
---
skoah.
skoah's skin care trainers deliver personalized facial treatments & our natural skin care products work by blending the best of nature with modern science.
---
pet food 'n more
Pet Food N More: SparkySnacks is now available at Pet Food N More, who are on a path to bring in more locally sourced products!  Yay for Pet Food N More! You can still order SparkySnacks online or visit Pet Food N More at Oak St And West 16th!
---
Aqua Paws
Does your dog need some extra exercise?  Does your pooch need some help with nervousness?  Come and visit Aqua Paws Canine Wellness Centre where your pooch can go for a swim with experienced trainers and hydrotherapy specialists! On your way out, pick up some yummy SparkySnacks as a "good dog" treat!