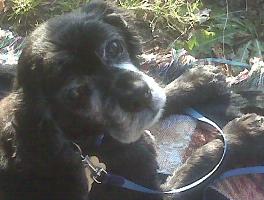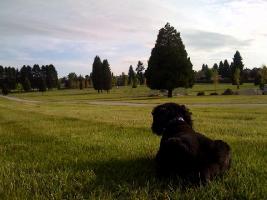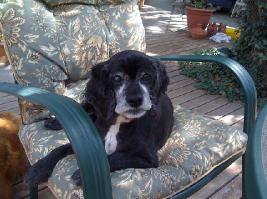 About Me & Sparky
Welcome to SparkySnacks.ca! I am sure that you are interested in knowing about me! I would be too if I were reading about the treats that I am going to give to my dog! My name is Rita and my dog is my passion. My dog, Sparky, was an amazing 17 year old cocker spaniel that passed away in June 2010 after a heroic battle with heart disease and cancer. He inspired me to be stronger, go further, and showed me that no hurdle is insurmountable. He was the bravest, strongest, and most cuddle-some pooch ever and will be so missed.
Sparky was diagnosed with cutaneous lymphoma and a dilated cardiomyopathy (flubby heart) in 2009. He often struggled with his appetite due to his medical treatments, so I decided to bake treats and cook foods to satisfy his nose and ease his tummy! Sparky was a very fussy little pooch and it was ever the challenge to satisfy his palate and be tender with his tummy, so you know if he liked it, it was fussy pooch approved!
When I was a child, I was the kid in the park who could run up to any dog and befriend it, so much so that among my group of family and friends, I am known as "the Dog Whisperer" (not to take anything away from Cesar!) My Mom and Babcia would see me run up to any dog, from Chihuahua to Golden Retriever to Pitbull and were terrified only for the dog to start licking my face with their tail wagging! Knock on wood, not once have I ever been bitten by any of my furry little friends!
My love for my little Stinker intensified my passion for baking. I am self-taught baker, no baking classes for this gal! When I was a teenager I tried cooking and that did not work so well, so I turned to baking. Baking was much easier and much more fun! I began baking all sorts of different treats for birthdays of the members of the Polish Folk dance group I belong to (yup, there is such a genre as Polish Folk Dancing!) They enjoyed my baking so much that each member always looks forward to the next person's birthday! I always waited in anticipation for the opinion of a retired and accomplished baker in my dance group. Ed would eat the entire piece of dessert, savouring every bite, before rendering his decision. I can proudly say that there was not one dessert that he did not like! Every where I went I began to be known as the baker and no one would bring any desserts as they knew I baked some "fabulous treat!" It is an amazing compliment, but can you imagine the pressure to bake something better than the last time? I digress….
Back to Sparky…with his tummy issues because of the chemotherapy treatments, I decided to bake cookies and cook foods for him, researching all the foods that dogs could and could not eat, and trying out recipes with him as my official "fussy pooch" food taster. I began to create different treats for Sparky to try and if he ate them, you know that they were "fussy pooch approved!"
Our pets are part of our family and I believe that their food should be as yummy and as tasty as ours! For that reason, my commitment to you is to provide you with yummy and healthy treats, with wholesome ingredients without all those unhealthy preservatives, where you can be assured that the treat your dog is eating is good for him or her and is "fussy pooch approved!" Hopefully your dog will enjoy them as much as Sparky did!
Rita